In a Florida Probate matter, what is a Formal Administration?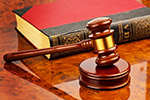 What is Formal Administration?

Formal administration is one of the proceedings used to probate a deceased personís estate. In formal administration, a Personal Representative will be appointed to manage and distribute the deceasedís estate. The Personal Representative will receive Letters of Administration from the court. This document grants the Personal Representative the authority to work with the deceasedís bank and other financial institutions, to sell the deceasedís property for the benefit of the estate, and to file the deceasedís last tax return. It is the Personal Representativeís job to notify the deceasedís creditors and other interested persons of the probate proceeding. Then, the Personal Representative will distribute the deceasedís estate to those persons entitled to payment. The typical Formal Administration proceeding takes between 9 and 12 months. If the proceeding is contested or other unusual circumstances arise, then the proceeding can last longer.

More Information:
For more information please see our probate page
Attorney: Eve Travis
Status: Answered
Date Filed: September 25, 2012