In Florida, what information will my probate attorney need?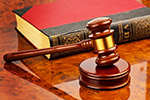 What is the basic information that my probate attorney will need?

Prepare a list with the following information and bring it to your meeting with the probate attorney:

1) whether the deceased person had a will and where the original is. Bring the original or a copy of the will to your meeting;

2) what assets the deceased person owned and their approximate value. Bring the last tax return of the deceased, insurance policies, and any other asset documentation that you have to your meeting;

3) whether there are any creditors of the deceased person and how much they are owed;

4) the names and addresses of the deceased personís spouse, children and other heirs.

More Information:
For more information, please see our probate page
Attorney: Eve Travis
Status: Responded
Date Filed: September 25, 2012