How many bankruptcy cases have you done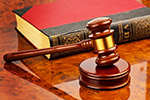 Our law firms and our attorneys, since 1997, we have successfully represented clients in thousands of bankruptcy cases. The heart of your question, however, should not be measured in numbers. What you are really asking is whether our law firm has the experience and competence to address your bankruptcy needs.

We think it is an excellent idea for you to do your research and to ask such questions, but competence is not solely measured in numbers. You should see if there is any discipline associated with any of the attorneys of the firm and check to see if all the attorneys are in good standing. You also should check to see if the firm is highly rated by third party rating agencies such as AVVO and MartinDale.com. Our firm is AV rated which means it has achieved the highes level of competency in both ethical and professional standards. Additionally, some of our attorneys are board certified which further shows the competency level of our firm.

If you require a complex bankruptcy with contested litigation, ask us specifically to provide you with information concerning the pleadings we have successfully filed in Federal Court.


More Information:
For more information, please visit our Bankruptcy page
Attorney: Maurice Arcadier
Status: Answered
Date Filed: November 14m 2012